EU Agri-food Sector Strong in 2023: The Importance of D-Tasting Project in Today's Global Landscape
In January 2023, the European Union (EU) agri-food exports and imports remained vigorous, maintaining a steady total of €31.8 billion. The latest monthly agri-food trade report from the European Commission indicates a robust EU trade balance of €4.2 billion, thanks to exports primarily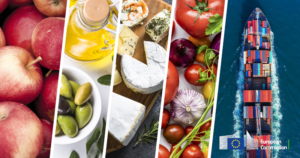 consisting of cereal preparations, milling products, and dairy products.
This performance highlights the resilience of the EU agri-food sector, which has stayed strong in the face of global challenges. This resilience is crucial in the post-pandemic era, where the agri-food sector, particularly the Food and Wine sector, is in a period of digital transformation. The Erasmus+ D-Tasting project recognizes this transformative shift and its implications for vocational education and training (VET).
With the pandemic inducing changes in traditional practices, virtual tastings have emerged as a compelling example of digital resilience in the Wine and Food sector. By creating opportunities for online interactions between companies and clients, these activities are not only driving economic growth but also enabling social and educational experiences in the safety of our homes. The D-Tasting project is championing such digital initiatives by advocating for VET adaptation and innovation to accommodate the "New Normal."
Furthermore, the report demonstrates the significance of the EU's trading partners – the United Kingdom, the United States, and China as the top three destinations for EU agri-food exports, and Brazil and Ukraine as key import sources. This global interconnectivity underscores the importance of EU's Farm to Fork Strategy, a sustainability initiative that the D-Tasting project is committed to promoting through VET training in the Food and Wine Sector.
In an era where sustainable food systems are of paramount importance, the Farm to Fork Strategy ensures environmental neutrality, food security, nutrition, and public health. By incorporating its values and content into VET training, the D-Tasting project is playing a vital role in disseminating these sustainable practices across the Food and Wine sector.
In conclusion, the EU's agri-food sector's performance and the continuous growth of digital initiatives highlight the D-Tasting project's relevance and importance in today's landscape. By aligning with the EU's economic recovery, digital transformation, and sustainability objectives, the project is poised to make a significant impact on the Food and Wine sector.
The D-Tasting project is committed to addressing the digital evolution in the Food and Wine sector. As more sectors, including agri-food, leverage digital technology to enhance their offerings, there's a growing need for individuals equipped with the necessary digital skills. In response to this, D-Tasting aims to identify, develop, and certify these emergent skills to boost the EU's economic and societal recovery.
For more information about the D-Tasting project and to follow our progress, please visit our website at https://www.dtasting.eu/. Your support and involvement can make a difference as we strive to transform vocational education and training, making it more resilient, innovative, and inclusive.